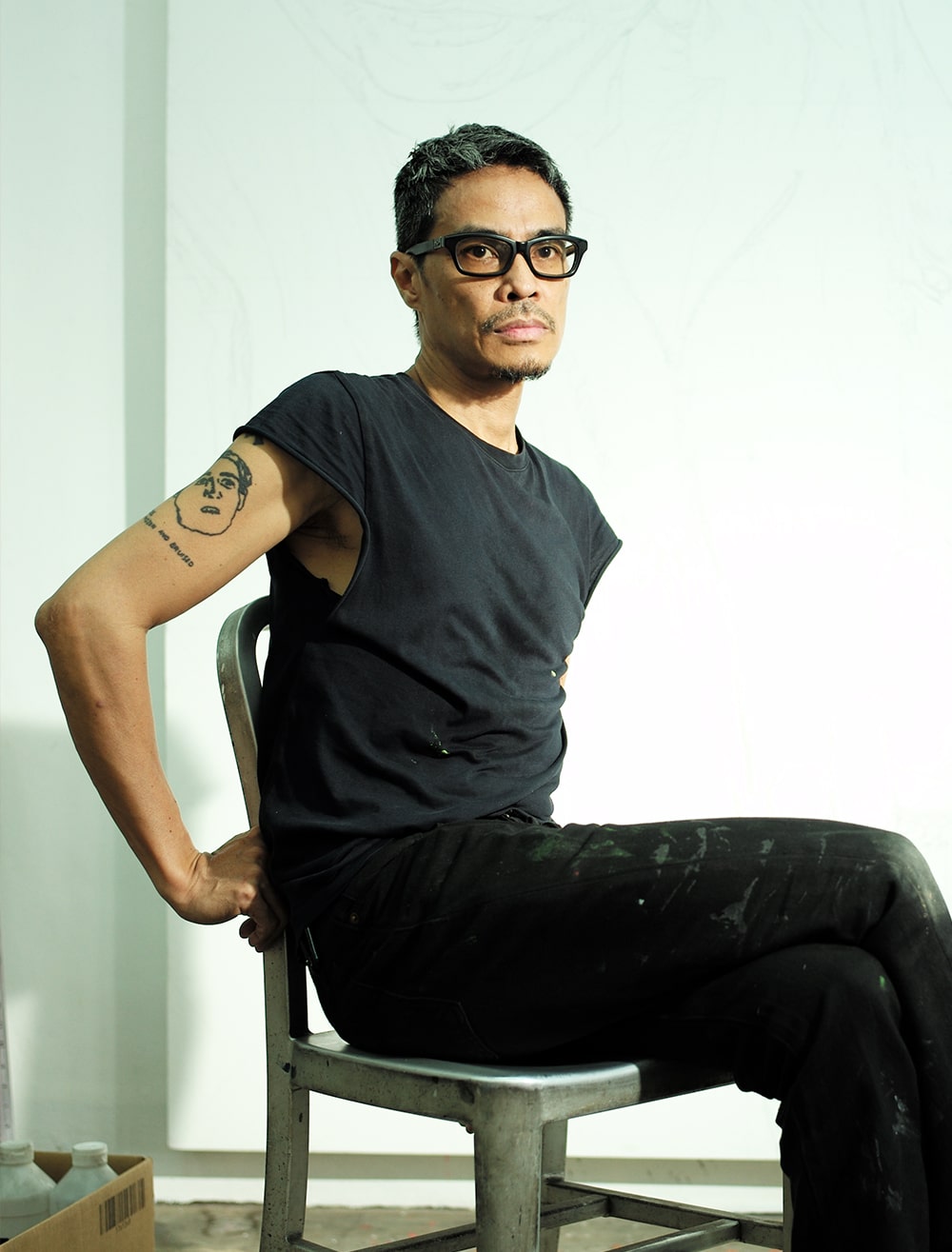 Kiko Escora
EK-EK NG TALIPANDAS
About the Artist
Kiko Escora's subjects stand very near to the surface of each picture – as in a close-up camera shot. Severe-looking, quietly dignified and standoffish, they are all confidently attired in the latest fashion. Brash surfaces of modernity pose as the new iconography. Escora has chosen to paint his subjects as they turn away; their faces are concealed in one way or another. Instead, he has concentrated on their gestures and poses. All together, there is almost a sense of complicity among them, as they idly gaze through or away from the viewer. Charged with an unnerving energy, Escora's characters suggest remoteness from the viewer. Their stance is so consuming that the viewer could be left with a desire to unlock the mystery of the subject's identity.
Curatorial Notes
Considered one of the foremost chroniclers of the alternative scene in the late '90s and early 2000s, Kiko Escora makes a triumphant return to the art world, this time imbued with the fierce wisdom that comes from having seen it all and embracing life's invitations. An eagle-eyed observer of the intricacies of human nature, often framed and dramatized within the tight spaces of bars and galleries, his large-scale works portray people caught in a web of intricate interactions, regardless of whether they last only as long as a party. There is a defiance and haunting quality in his depiction of le beau monde (fashionable society), as if its members are reconciled to the fragile beauty of fleeting, momentary connections.

Playing various roles such as DJ, photographer, curator, cyclist, and man-about-town, Escora is authoritative in his representation of a segment of urban life that is not accessible to many but is fascinating for the freewheeling attitude it evokes. His darkly-lit and mildly menacing works are tableaus that seduce the viewer to enter. Dreamily vivid and humming with masculine energy, Escora's paintings are snapshots of a city made kinder by nightfall, where having a good time is the sole currency.
---
ArtFairPH/Projects Artists